I always put it off.  Every year.  I'm always so busy Christmas shopping for the kids and everyone else that I neglect to shop for myself.  My husband, my sister, my mom and mother-in-law will ask what I want and I just say "clothes".  Well, that's not good enough.  Nope, I need to pay more attention to what I want and be a little kinder to myself in that way.  I want to be able to send them a link to something that I REALLY want.  So, this year, I've compiled my Christmas list and I think would be fitting for most of us ladies.
1. Purses
How cute is this???  I have to tell you…I am over the whole big, huge bag thing.  A large bag only aggravates the arthritis that a diaper bag and baby caused to my left shoulder after carrying those around for 9 years.  What can I say, I'm old.
This crossbody bag from Gap is only $30 and you get an extra 20% off your purchase with code CHEERS!
Sign me up!
My good friend has this bag and the moment I saw it, I wanted it.  It's a canvas crossbody bag from Ekphero and you can get it on Amazon for $35.99!  The nice thing about it is that it is a great "everyday" bag.  No frills, just style.
2.  Colored Skinny Jeans
Colored jeans are back.  Well, they've been back for a while, but I'm just now getting on the bandwagon.  Those of us who went to high school in the 90s are having a hard time accepting certain comebacks because we've been down that road y'all.  I still don't think I can do the mom jeans trend.  I get a little nervous twitch when I see someone wearing them.  Like I'm having a traumatic flashback.
Anyway, these are super cute and wine (the color) is the new beige.
These jeans are $30.99 from Gap and just like the crossbody bag, you can get another 20% off your purchase with code CHEERS!
3.  Jeggings!
You guys…I have recently discovered jeggings.  Yes, I'm late to the party, but my 6-year-old wears them and I just couldn't wrap my brain around buying a pair for myself.
Well, I found a pair of moto jeggings and I had to try them on  because the pair that I was inspired by were $70, and momma don't pay $70 for jeans.  So, I tried them on and it was like the heavens opened up.  I looked cute in my moto jeggings, but I was also comfy like in my regular leggings.  Why did I not try this sooner???
So I bought the jeggings.  Did that mean I was giving up???  I hit 40 and now I'm in jeggings???  (Insert crying face emoji)  Well, I say no to all of that because I've earned the right to be comfortable and look cute, and no one is the wiser.  And now I can have another glass of wine because my jeggings allow me to, so there!
These deconstructed jeggings are from Old Navy for $37.00.  They're officially on my Christmas list.
4.  Sweatshirts
I have quite a few sweatshirts on my list.  Guess that means I need some!  OR, I just want to be cozy and I'm gearing up for a cold, gray Ohio winter.  Probably both.
While I'm wearing my skinny jeans and jeggings, I like to have a little bit of coverage on my backside, so I have found several sweatshirts and sweaters that have a little more fabric in that area.  This one would be so cute with leggings for a comfy day at home or running some errands.  Many of the reviews say that the plum color pictured here is more hot pink, so if you like this sweatshirt, maybe one of the other colors (gray, white, or light blue) might suit you better if hot pink isn't your thing.  It is also from Gap and right now it's $44.95.  Take an additional 20% off with code CHEERS.
Plain old sweatshirts can get BORING.  But, this one has this cute little cut-out collar, which kind of dresses it up.  You could wear this with jeans and boots OR leggings and tennis shoes (aka sneakers to east coast peeps).  It's from Old Navy and is selling for $39.95.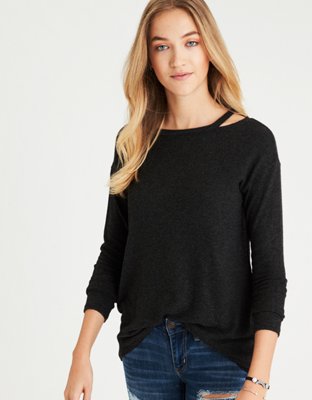 This sweatshirt is a classic take on a hoodie with a twist.  Look at those zip sides!  Seriously!  It's on sale at American Eagle for $35.00.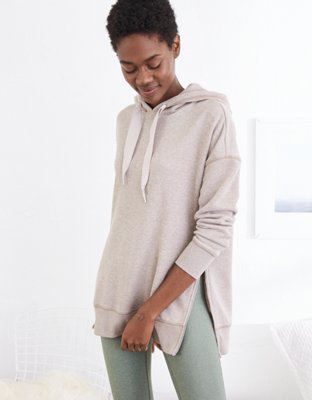 5.  Sweaters
If I'm having a day where I want to feel a little more put together, a sweater can stand in for my beloved sweatshirt and I'll be just as cozy.  Add some jeggings and boots and I'm home free.
I am loving this black and white striped sweater from Target.  It's only $39.99!
This pink American Eagle sweater with tie sleeves has the comfort factor, but could be totally dressed up with a pair of tuxedo leggings and black booties.  Right now it's $39.99, but its only available in medium.  Maybe if we cross our fingers they'll restock it!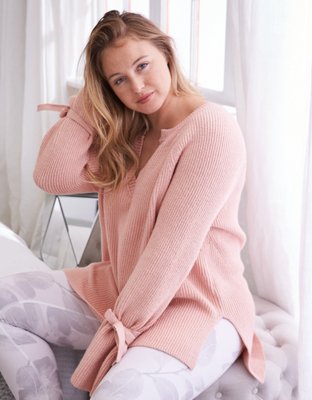 Everybody needs to have a cowl-neck sweater!  It effortlessly adds polish to your outfit.  And this one has the tie-up sides, so I'm sold!  Its on sale now at Target for $32.99.
6.  Tops
Here are a few tops that are good for layering under a vest or cardigan.  These two tops are too cute to pass up and they can also stand alone with a pair of jeans and a scarf.  This one at Nordstrom Rack is only $29.97
This one is also from Nordstrom Rack and is on sale for $19.97! Loving the ruffled sides!  Anybody else notice a trend here…I think I'm kind of obsessed with ruffled sides, tie-up sides, cut out sides…sheesh!
7.  Coat
So my sister has this coat and…um, you guys, it's awesome!  It has great structure and gives any outfit a polished look.  It's from Old Navy and it's currently $74.00.  You may want to check your local stores though, because Emily says she got this for under $50 at her store.  It's worth a try! *Update – No longer available online!  Good luck and best wishes to those who can find this in stores…sniff, sniff.
8.  Booties
A girl can never have too many booties, amiright?  These are so easy to slip on and run out the door and I love the fact that they have a low heel.  Low heel equals "everyday" for me.  These two pair are from Target.  The black pair are $49.99 and the tan pair are $34.99.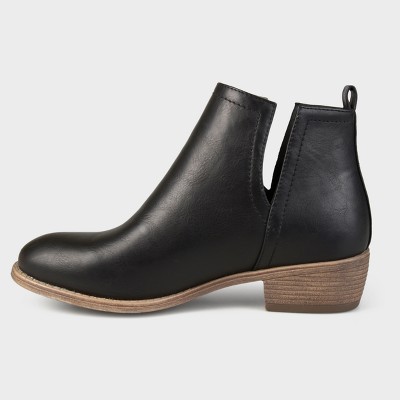 I'm pretty proud of myself with this list!  Dress down clothes, check.  Going out clothes, check.  Outerwear, check.  Shoes, check.  Handbag, check.
Not too bad, and it's still early-ish November, so time is definitely on my side if I want to pull the trigger and order some of these.  OR, I can just send the link to my husband, sister, mom or anyone else that wants gift ideas.
Happy shopping friends!